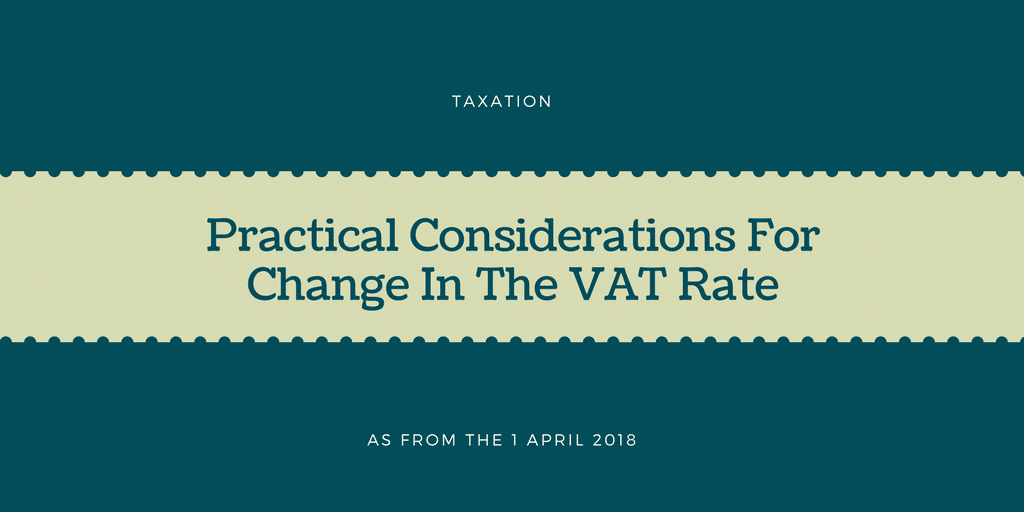 Background
The Minister of Finance announced in his Budget Speech of 21 February 2018 that the standard rate of VAT will increase from the current 14% to 15% with effect from 1 April 2018.
The VAT rate to apply depends on the time of supply rules
In simple terms, this is the date on which the transaction is deemed to occur according to the VAT Act. The general time of supply rule is the earlier of when
an invoice is issued or
payment is received.
For most transactions the general time of supply rule will apply. However, some transactions have special time of supply rules. Some examples include
supplies between connected persons,
fixed property transactions and
supplies made under instalment credit agreements.
In addition, some rate specific rules could apply when there is a change in the VAT rate. Most transactions which occur on or after 1 April 2018 will be subject to VAT at the new rate of 15% unless a special time of supply rule or a rate specific rule applies.
The rate specific transitional rules will be dealt with in another article, we'll keep you posted.
Practical Considerations
Has your accounting system been adapted to the new rate. More specifically are you invoicing customers at 15% rather than 14%. Get this wrong and SARS with slap you with penalties and interest.
Can your accounting system cope with transition rules or is your bookkeeper aware of these rules to account for transactions correctly.
At what rate should Credit Notes for sales prior to 1 April 2018 be processed.
At what rate should Debit Notes for purchases prior to 1 April 2018 be processed.
At what rate shouldBad Debts that relate to sales prior to 1 April 2018 be processed
VAT Reconciliation should include additional items ie reconciling items to take the above into account and to justify a particular periods VAT Return.
Most off the shelf accounting systems appear to have the above covered.  In- house systems will rely on internal IT staff to make the necessary changes.
Cloud accounting systems tailored to the South African market should have your back, however other systems adapted for our market need to make the changes required to comply.
Billing systems which do not form part of the accounting system will also have to be changed to account for the rate change. E.g. Medical administration systems will have to bill patients at the new rate and deal with credits and other variations as per checklist below.
Checklist to ensure smooth transition
Update your Master files i.e. the file that contains the vat rates;
Update the VAT rate on recurring Invoices;
Update Bank Statement Mapping Rules or bank rules, if any;
Update Quick Entry Rules, if any;
Map the VAT 201 Report in line with your Time of Supply rules, if required by your accounting system.
Make admin staff aware of changes and pay particular attention to transactions that occur after 1 April 2018 which relate to transactions prior to vat change rate date, e.g. Bad debts or credit notes processed after 1 April 2018 for invoices prior to this date; these should be processed at the old rate.
Reconcile VAT at the end of the every vat period to ensure that all transactions have been recorded correctly i.e. at the correct rate, to justify using the old rate to SARS where permitted.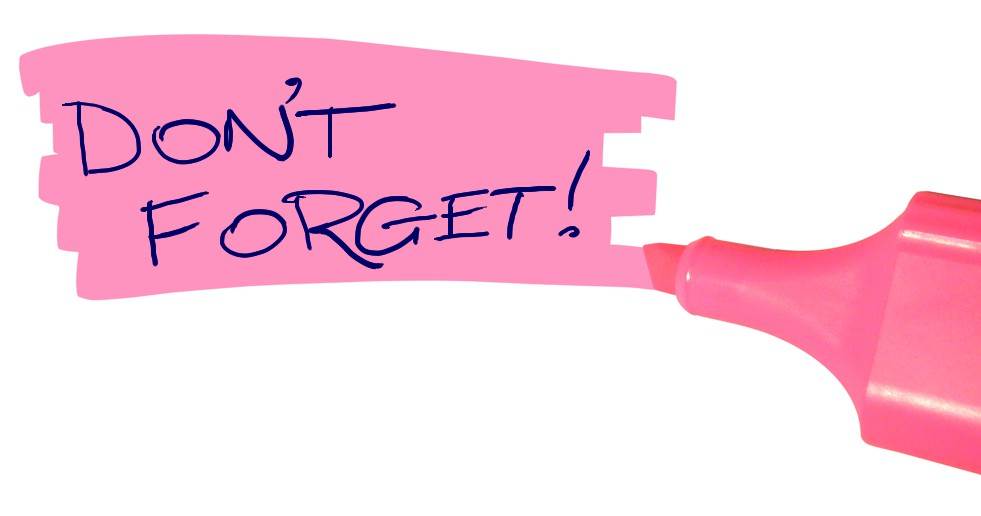 NB: Remember to also change the vat rate on recurring invoices, expenses, orders, etc.
The information and material published on this website is provided for general purposes only and does not constitute legal advice. We make every effort to ensure that the content is updated regularly and to offer the most current and accurate information. Please consult one of our Professional staff on any specific problem or matter. We accept no responsibility for any loss or damage, whether direct or consequential, which may arise from reliance on the information contained in these pages. Please refer to the full terms and conditions on the website.